Please click F key on your keyborad to enter full screen.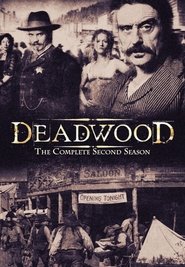 Deadwood Season 2 Episode 2
Calamity Jane returns to camp; Swearengen nurses his wounds while Dan and Johnny await Bullock's next move; Joanie and Maddie prepare their new place of business; Alma is asked to make a decision about her future. Maddie: Alice Krige. Adams: Titus Welliver.
Episode Title: A Lie Agreed Upon, Part 2
Air Date: 2005-03-13
Year: 2005