Please click F key on your keyborad to enter full screen.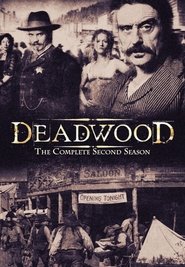 Deadwood Season 2 Episode 1
Bullock and Swearengen settle their most recent score with a bloody brawl, and Joanie welcomes her new business partner—with or without Cy's blessing. Also: a stagecoach brings important passengers; and Utter and Bullock investigate a shooting at Tom Nuttall's.
Episode Title: A Lie Agreed Upon, Part 1
Air Date: 2005-03-06
Year: 2005